Jepssen was one of the first industries to propose solutions for total automation and to improve the quality of life, inserting them into a broader and revolutionary concept, that of modular unitary technology, made of modular bricks that are unlimited in number, the only one that it can really guarantee a complete answer to every need.
«SmartLife Module: everything you need»
The range of Jepssen SmartLife modules already available, to which new ones will be continuously added, is designed to ensure the automation of all personal, family or business activities. Each module performs a series of functions (security, lighting, heating and air conditioning, energy saving, environmental pollution, audio, video, internet, etc.), combining them with each other you can obtain additional functions or interactions between them (ex: at home the motion sensor detects an intruder at home, turns on the camera that takes it and records and sends the shots on a smartphone, if you are at home the same motion sensor through the module for managing the lamps turn on the lights when some of the family members enter the room). You can create unlimited "scenarios" and timed schedules or give immediate commands. Applications are endless and can be changed at any time, when needed.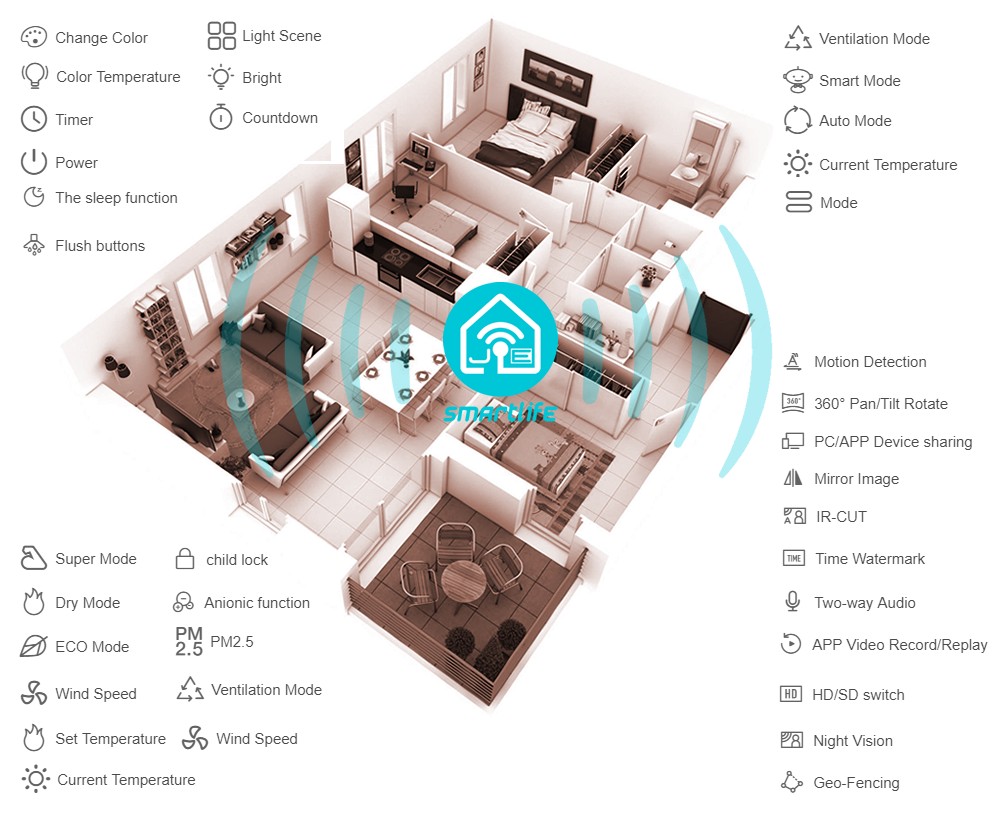 «All with a single direction»
Each Jepssen product is ready to manage the functions of the SmartLife modules. Just install the Apps in the 4K DigitalBox, in the 4K MediaBox, in the Droid TV 4K, in the Tablet PC PAN or in the OnlyOne PC.
In this way it is possible to control from various "stations", even remotely, all the devices, modules and various connected electronic equipment.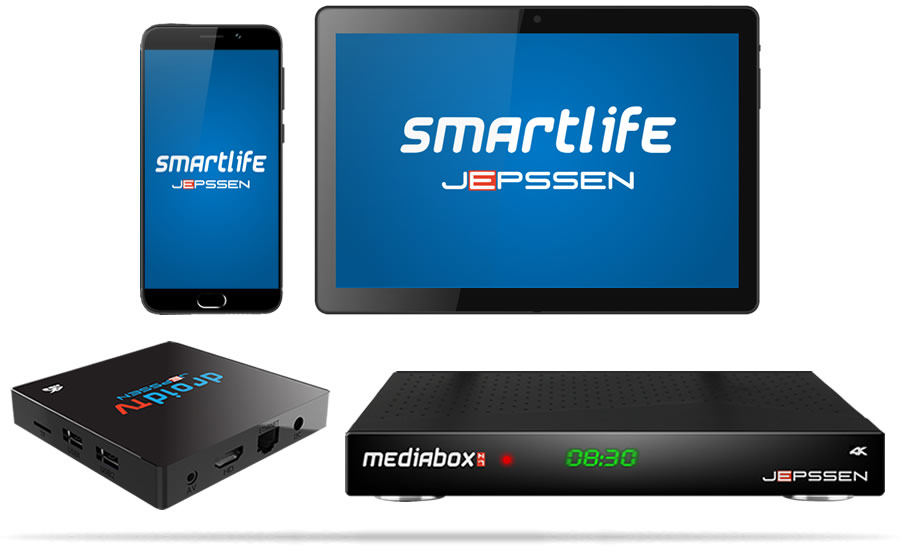 «OS Android and iOS Apps»
It is also possible to install the Apps in the various devices with Android or iOs operating system. All Jepssen products, in this way, interact with these devices (smartphones, tablets, etc.).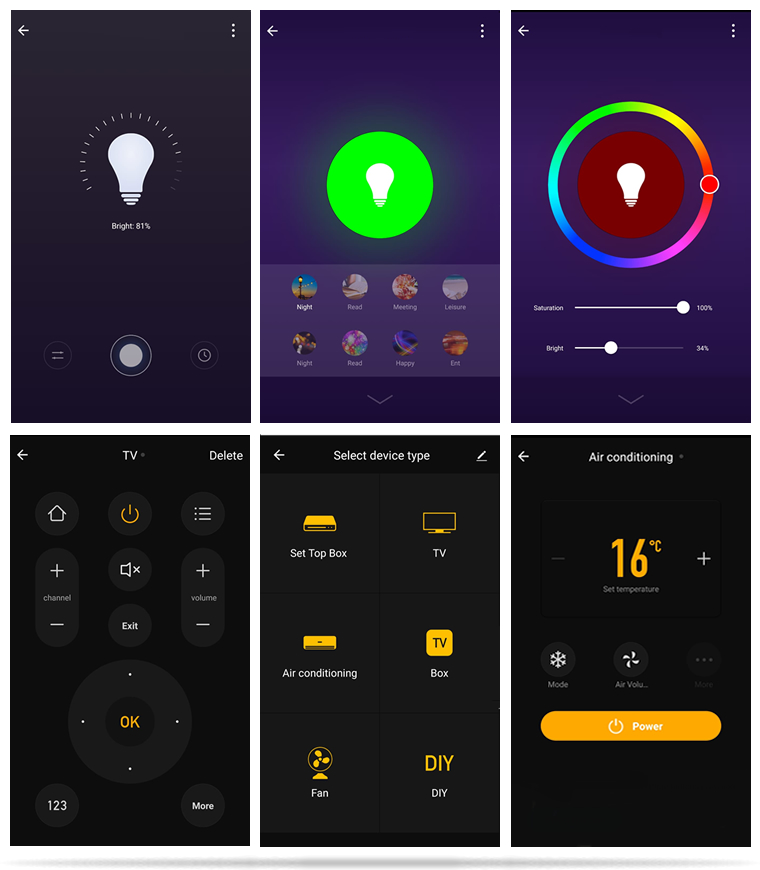 «All with a click or voice»
The Apps of the SmartLife modules allow an easy management of all the automation functions, just click on the various icons or menus.
Obviously the most natural way is to be able to command everything with the voice and even ask to be helped by a personal assistant. This is possible thanks to the complete compatibility with Alexa (Amazon Echo) and Assistant (Google Home). These products recognize the voices of multiple users (the components of a family unit or the staff of a company) and with the use of artificial intelligence are able to interact, dialogue and execute commands.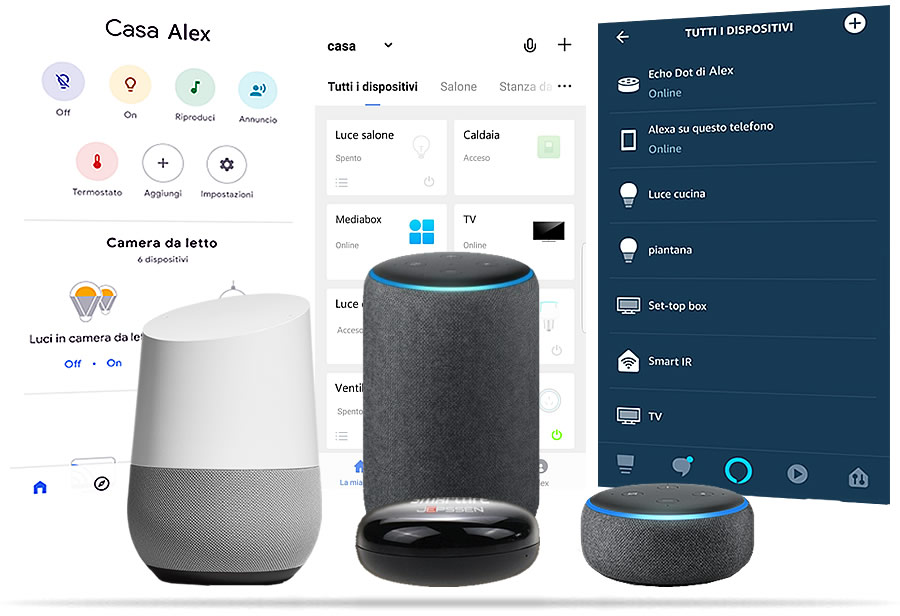 «All wireless»
SmartLife modules are made of WiFi standards and communicate with each other wirelessly. Through the WiFi router can be managed via the internet and from 3G/4G LTE mobile devices (PAN Tablet PC, smartphone, etc.) from anywhere in the world.
A further advantage of WiFi technology is that it is not necessary to make any changes to the pre-existing electrical system, making installation as simple as possible and reducing costs to a minimum.
«Smart IR Hub: all with just one universal remote control»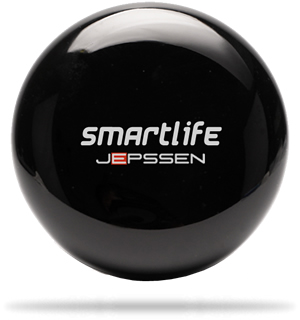 Many electronic products are remotely controlled via an infrared remote control. Each remote control is incompatible with most of them. Result: many remote controls to learn and use. With the Smart IR Hub module this problem is also eliminated and you really have a "universal" remote control, omnidirectional up to a distance of 12 meters, which replaces those of televisions, air conditioners, video recorders decoders and receivers, DVD and BluRay players, Hi-Fi systems, etc. (over 100,000 remote controls of the main brands already stored!). With the "IR Learning" function, it is possible to replace any other remote control not included in the presets.
«Everything becomes smart»
In the home as in a company there are already countless electronic products, each with an independent functioning and different from the others, unable to "talk" to each other. Connecting SmartLife modules will become "smart". Chandeliers and floor lamps are managed by the Smart Lamp modules (dimmable WiFi LED bulbs white and multicolored light) and Smart Lamp Holder (WiFi adapters where to insert the normal incandescent light bulbs, neon or LED), electronic equipment (switches, boilers, fans, stoves , humidifiers, ovens, coffee machines, shutters, electric curtains and shutters, irrigation, etc.) from Smart Switch and Smart Plug modules, video communication and video control from Smart Cam HD cameras. All measurements (temperature, gas, smoke, fire, humidity, flooding, pollution and radiation, security, access and inputs, movement, facial recognition, voice and fingerprints, etc.) are managed by the Smart Sensor and Smart Security modules.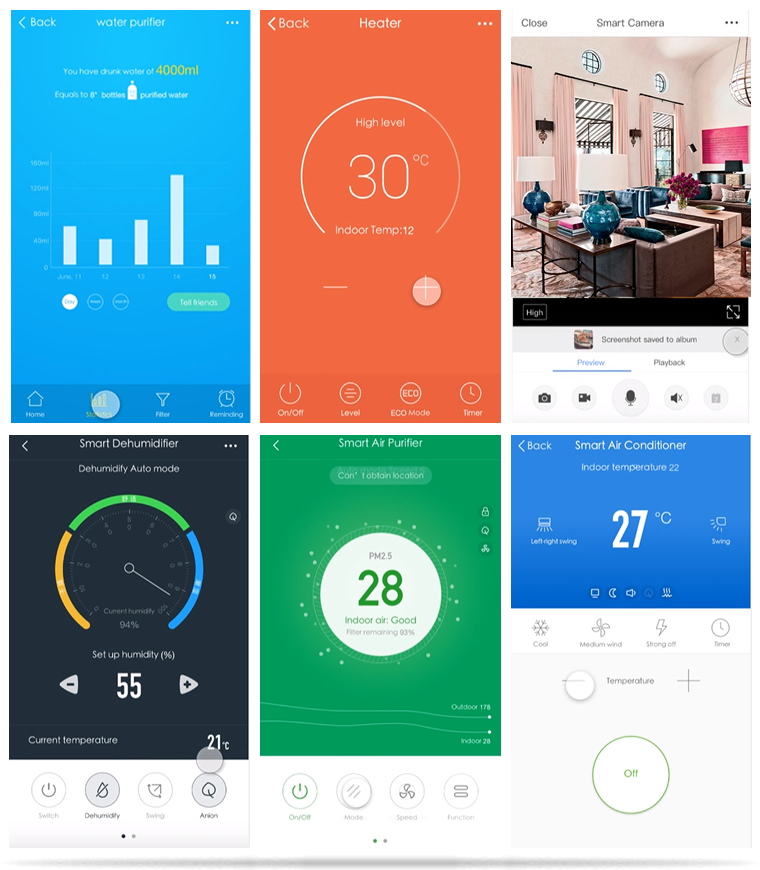 «All safer»
Constantly monitoring the interiors and exteriors of the home or company remotely is increasingly a necessity that can not be renounced. With the Smart Robot Cam HD WiFi cameras it becomes affordable for everyone. They are fully automated and robotized for all video-control and video-communication functions, they work wireless, 802.11n WiFi standard, they perform high definition full HD 1080p color panoramic video, they have infrared sensor with automatic light switching / dark, for night shooting or in non-illuminated rooms up to 15 meters. With the Smart Cam HD indoor camera, via the same App (Android, iOS) of all other SmartLife modules, it is possible from a remote device (eg smartphone) to manage camera movements vertically (up or down) with an inclination up to 120°, horizontally (right / left) with a rotation up to 355° and with the Zoom enlarge the image up to 4x, so as to frame the area of interest. It is possible, through the built-in motion and sound sensors, to monitor and display on a remote device (PAN, Droid TV, Mediabox, smartphone, tablet, computer, etc.) the movements of pets or their family members (children, elderly people) , disabled, etc.) and communicate with them thanks to the microphone and speaker integrated into the camera. The Smart Cam HD, in the case of any detection sends an email and a message in the App, so as to allow immediate viewing on the remote device paired. By creating the preferred scenarios you can set the automatic activation of the video recording on a Cloud Storage (ex: Amazon Cloud) or on an SD Card inserted in the appropriate camera reader and, in combination with all the modules and accessories of the SmartLife range, activate for example, an alarm siren, turn on the lights entering the room or any other electrical or electronic device. Aesthetically very elegant and futuristic (becomes a real piece of furniture) has very small size for easy installation or placement on any furniture or shelf. Supplied with USB cable and power supply and wall or ceiling mounting kit.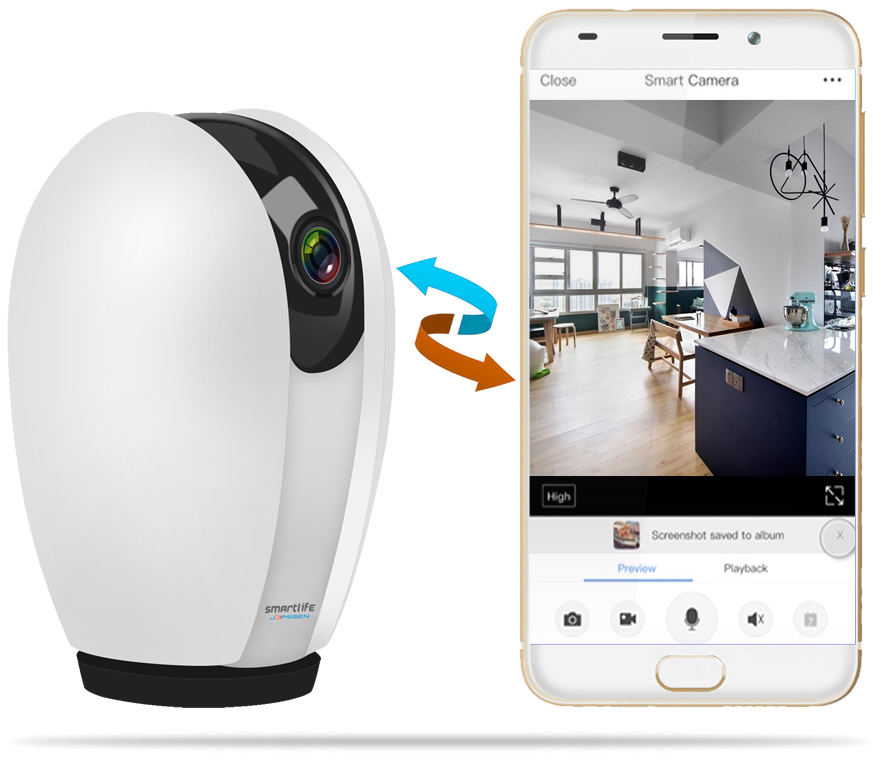 Still on the subject of security, Jepssen has created the Smart Security Kit, in WiFi standard, which includes some essential modules for access control or for the request for help and assistance. The Smart Security Gateway is the heart of the rescue or anti-theft system, can manage up to 20 sensors or control devices, includes the siren with adjustable volume and the flashing LED and is powered by a rechargeable battery, battery charger and USB port. Through the App of the SmartLife range, allows the creation of various scenarios. When the system is activated or deactivated, the flashing LED confirms receipt of the command. Small and aesthetically very beautiful, it can be placed anywhere (shelves, furniture, ceiling, wall). The LED of the Smart Security Gateway can also be used as an emergency or night light.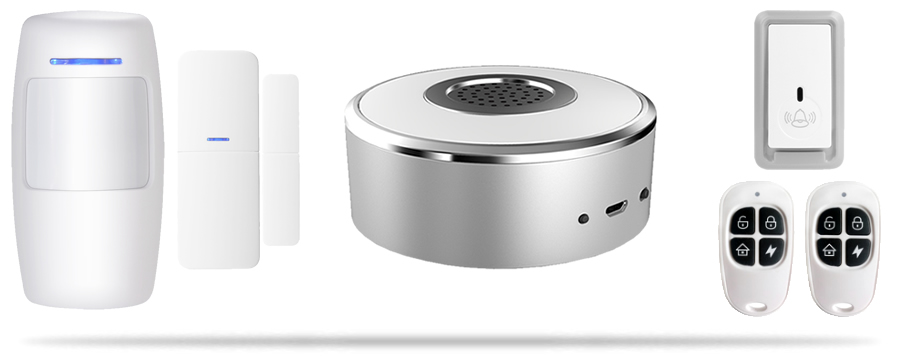 In the package there are also the Windows Smart Door, to check the opening of the door or window; the Smart PIR Motion to detect movements (people, animals, etc.) within an environment; the Smart Door Bell, a doorbell that used in an interior signals a request for assistance while positioned outside, near an entrance, when you are away from home or from the company, informs that someone has played; 2 "Smart Controller" remotes that allow, as an alternative to the SmartLife App, the activation / deactivation of the alarm system or by pressing the "SOS" button to start the immediate aid request (the siren and the flashing LED will activate). Also supplied as standard with all accessories for fixing and installation.
«A simpler and more peaceful life»
With SmartLife modules you can really get a better quality of life because everything becomes easier, safer, more manageable, without having to have a high budget because all these Jepssen modules have a very low cost and can be integrated, from time to time in time, with the growing needs.