«The global digital system opened to all your needs»
In the sign of unitary and universal Jepssen technology, the new MediaBox 4K M7 enriches the range of products "Digital Smart Share" for the intelligent sharing of all the equipments and digital sources and also for interoperability between different operating systems, Windows 10 and Android included.
It satisfies all those who want to take advantage of the endless applications and of a platform, equipped with a powerful and fast Quad-Core processor, based on a dedicated and advanced version of Android TV operating system.
The total modularity and extensibility and interactivity within a local or remote network, ensures the implementation of a system perfectly suited to the personal and family needs.
«Android & Internet on TV»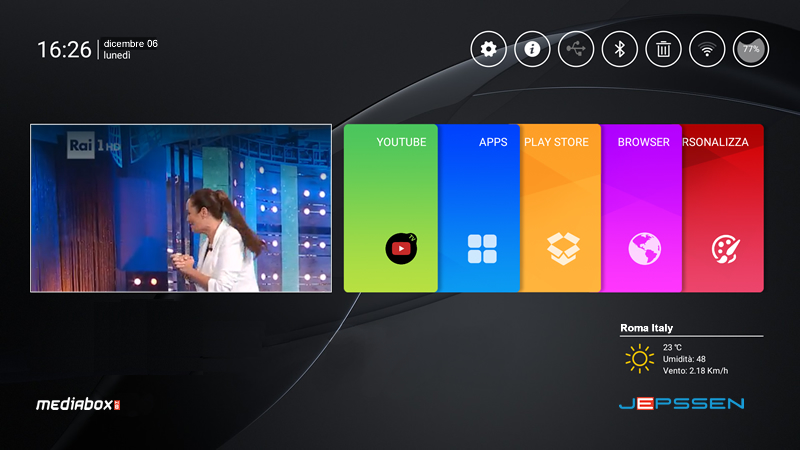 It can be directly connected to the TV or to the projector and it provides to access to countless apps (every day they add new ones) created for Android TV operating system.

Installing and launching the different apps is very simple and intuitive and surfing Internet, including the receipt of Web TV and Radio broadcasters, is similar to what can be done from a computer, a tablet PC or a smart phone: the difference is that everything can be done comfortably from your TV!
MediaBox 4K is a necessary product for the IPTV and its apps (eg: YouTube, Kodi, etc.) for the reception of the Tv channels and of the multimedia contents avaiable on Internet or local net ensuring, thanks to the bilt-in on board "Fluid-Play" function, sight without "freeze" also for the Full HD and Ultra HD transmissions.
«Unlimited Digital TV & Radio channels»
With 3 integrated tuner, digital satellite (DVB-S, DVB-S2), digital terrestrial (DVB-T2 HEVC, DVB-T HD, DVB-T) and digital cable (DVB-C), it stores thousands of TV and Radio, including the new high definition ones (Full HD and Ultra HD). It has CAS slots for multistandard smart card and Teletext with subtitles.
Through the internal scaler and the HDMI digital output it really improves the sight of the traditional broadcasting stations because it increases the resolution, becoming the necessary linking for whom has a Ultra HD television set or Ultra HD videoprojector.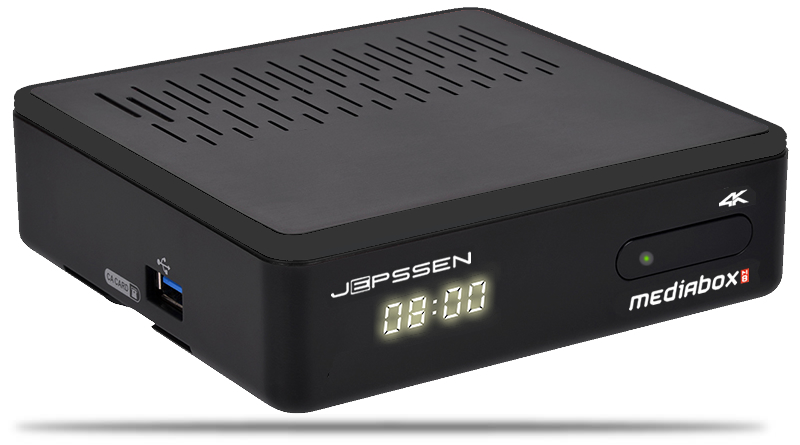 «Direct access, free choice, no obligation»
Using the Direct Access USB 3.0 ports you can record on an external USB hard disk or USB Pen. All the recordings can be transferred to a computer, edited using the most popular software to eliminate the advertising or the useless sequences and burned to CD / DVD / BluRay.
All the recorded programs can be seen anytime, without any problems of time or use. Simply pressing a key it's possible to start a recording (OTR) and to choose the duration, with the Timer it is possible to plan the programs to record and to create your own TV palimpsest (single events, daily and weekly).
It allows you to record up to 2 TV channels simultaneously or, if necessary, temporarily pause the vision of the live program and then continue the vision as if it had never been interrupted.
«Complete, easy and fast»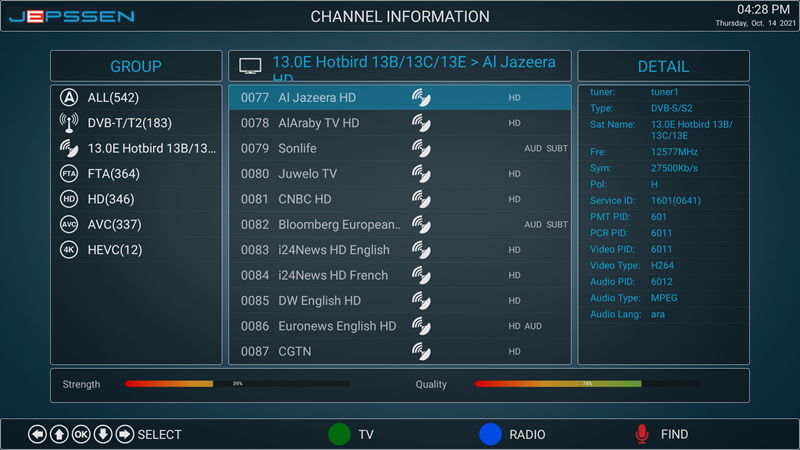 The management of all the functions is extremely fast, simple and intuitive, thanks to the multi languages OSD (On Screen Display) menu and the EPG (Electronic Programs Guide). Switching from one channel to another is practically instantaneous.
«Multimedia Player 4K HDR»
It fully supports the high definition Ultra HD in all the most popular formats (Mkv, H.264, H.265, HDR, HLG HDR, WMV9, M2TS, Avi, DVD, MPEG1/2/4, DivX, XviD, TP, TS, Flv, etc.), it allows through the internal scaler to increase the resolution of the standard definition (SD) video and photos (ex: DVD and DivX, etc.) up to 4096x2160.
«Game Station 4K 3D On-Site & On-Line»
It's extremely suitable to be use with the most advanced and spectacular games that require high performance and resolution Ultra HD, including online multiplayer, and it supports all USB and wireless game controllers (eg: Joystick, Game Pad, Air).
«Mail & Social»
Ideal for e-mail management, as well as to the access to the various social networks (eg FaceBook, Twitter) or instant messaging (eg Skype).
«Multitasking»
It includes Task Manager function that allows the multiple running of more programs, allowing quick and easy switching between running applications.
«Wireless Display, Android on TV»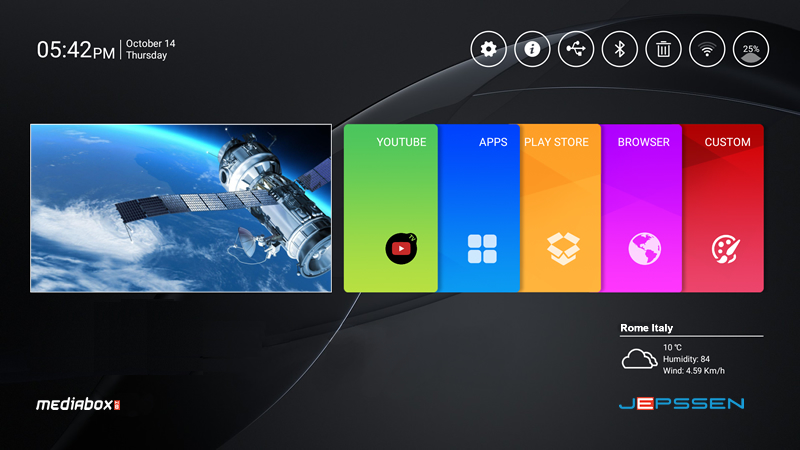 It embeds Miracast technology for transmitting wireless (WiFi Direct) on a high-definition TV (Ultra HD) of a remote devices screen's contents (screen mirroring), such as the PAN, a smartphone, a tablet, etc. The device's screen will appear in real time on your TV, allowing you to manage all the functions and the installed various applications turning it into a remote control or a wireless game pad.
«A net for everything»
It allows you to access the local network or Internet. The network can be realized via cable through the Ethernet LAN port or integrated WLAN 802.11n 300 Mbps with external antenna amplified or with Jepssen JPL PowerLine AV module inserted in the sockets of the existing electric system.
«Always ready»


The management of all functions can be done via the remote control with "mouse" function or, for surfing Internet, using the 2,4GHz WiFi wireless multimedia keyboard with touch mouse pad (till a distance of 10 meters 360°).
«Highly faithful»
Equipped with digital HD 6 channels audio processor and digital optical S/PDIF output fully satisfy also the wishes of the most exigent audiophiles.
«Easy to install»
The extremely compact size (19.5 x 2.0 x 11.5 cm) facilitates the installation in any style solution (especially in case of very narrow spaces or on boats and campers).
«Compatible with any equipment»
It fits to any installation's need being fully compatible with any fixed or motorized (DiSEqC, USALS) equipment and those with single or centralized digital terrestrial.
«Always with you»
Equipped with input for external 12V power supply is the ideal solution for the installation and the use in campers or boats.

«Upgradeable firmware, a product that is new»
The firmware setting's update is easy and fast, because it is done through the USB 3.0 port and, so, avoiding the connection to a computer.
«Total control»
Among the wireless devices available, with range up to 10 meters 360°, you can use the Media Keyboard Pad (92 backlight soft-touch keys, game pad and mouse pad) and the Media Air Pad (air mouse , air game pad, remote control and laser pointer).